This card is my submittal for Colour Inkspiration (CI) Challenge #CI43. CI is an International Facebook group originating in Australia and New Zealand. The challenges are always based on Stampin' Up colors in some format and a really fun way to challenge yourself!
This challenge was to use 1, 2, 3, 4 or all 5 colors from the 2018-2020 In Color Group. Also white, black and metallic may be used.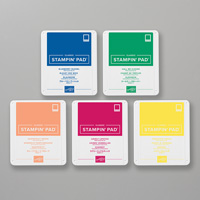 Stampin' Up In Color 2018-2020
One of my favorite techniques is creating my own background with a small stamp. I think the small stamps in a set are sometimes more interesting and intriguing that the featured stamp.
For this card I used the sketchy tree from the Timeless Tidings stamp set.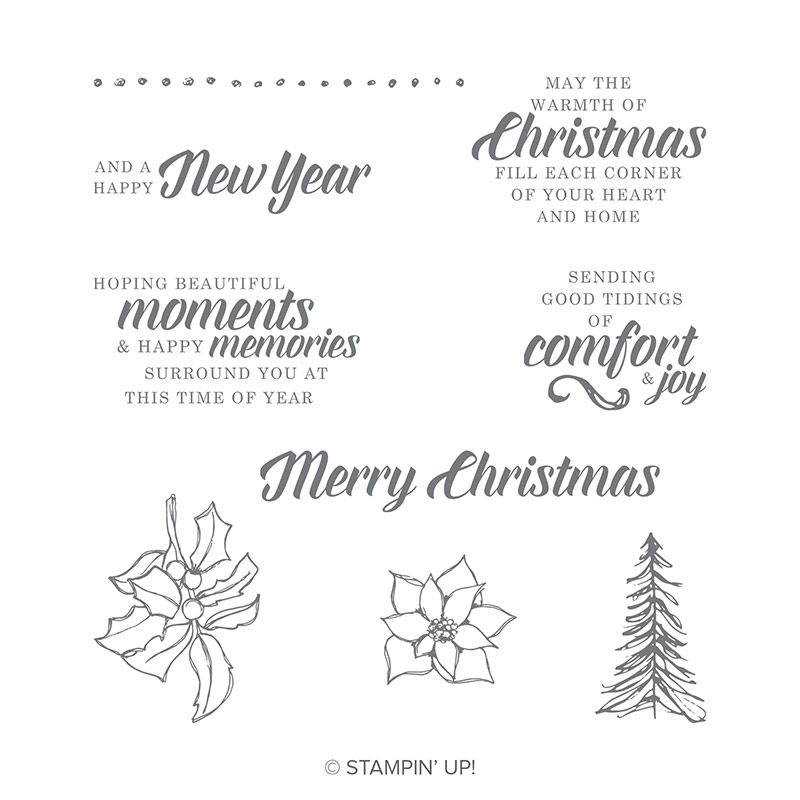 Timeless Tidings
I prepared a half sheet of Stampin Up watercolor paper with the Embossing Buddy powder. Then using Versamark, I stamped the trees 3 across, staggered the rows and sprinkled on gold embossing powder. Because Versamark is clear and you really can't see well where you have stamped, so I did this in stages - about a row at a time - so that I could see where I had stamped. The heat setting was last so as not to warp the paper too much.
Once it had a chance to set, I brushed water across the paper both front and back using a 1" brush. Since I wasn't taping down the paper, using water on both sides, helps prevent warping. While wet, using a small Silver watercolor brush, I dropped Blueberry Bushel reinker on one end, turned the card and did the same with Call Me Clover reinker at the other end. By tipping the paper and angling towards the middle, it left light areas, which make the background more interesting. The best tip to remember is - always leave white areas.
I let this air dry overnight. Once dry, I always put heavy weight on the card to keep it flat until I use it. Be sure that it is dry and layer some clean copy paper over your cards before you weight it (to keep any random dirt coming off on the card).
The sentiment is from the Merry Christmas To All set. Stamped with White craft ink and immediately sprinkled with white embossing powder on prepared Basic Black cardstock.
Gold glimmer paper was used to layer the card to a Blueberry Bushel card base.
I hope you enjoyed the card and give your small stamps a new look!
All products used can be purchased through my online store at Stampin' Up.
Click on the picture(s) below to go directly to my store to order.

Product List